I am happy to consider offers of part-time freelance recruitment or education work starting from October 2017.
I am currently an undergraduate student at the University of Bristol. I have been awarded funding to start a PhD in September 2017 (at the same university) to research our design for a processor-integrated hardware garbage collector.
Please see the Professional page for a summary of my experience. My LinkedIn profile has my complete CV.
---
I have two ongoing research projects and am willing to discuss other interesting ideas. More details of my areas of interest and current projects are below. I am not looking to take on any new research projects at the present time.
Website Github YouTube Twitter
FlingOS is an educational operating system project. The codebase is experimentally implemented in C#. FlingOS also serves as an experimental platform for novel OS design, much of which I have kept private. Future development of FlingOS is not going to turn it into a commercial OS. Any useful outcomes of my research with it will appear in other projects.
As part of my research into a processor-integrated hardware garbage collector, I am in the very early stages of designing an operating system targeted at the simple micro-processor. More details of this project will become available as the research progresses.
I am currently working with Prof. David May and others at the University of Bristol to research, design and implement a new type of processor. The key new feature is an integrated hardware garbage collector. This GC is made as an integral part of the processor, not as a co-processor like previous efforts in this field have tried.
More details about the architecture can be found under the New Architecture heading of Prof. David May's website. This research is also the basis of my PhD.
---
I work as a freelance recruiter for Essaimage Associates Limited hiring students for Caterva's 13-month placements. I generally hold interviews for the Web and Mobile; Data Acquisition, Analysis & Visualisation; and sometimes Control Centre Software positions.
---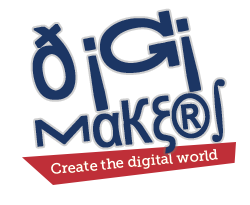 Website Github YouTube Twitter Facebook
I am the Outreach Teaching Assistant, helping Caroline Higgins, Outreach and Student Liaison Manager, with the Merchant Venturers School of Engineering (MVSE) Outreach programme. Primarily, I have been in charge of managing and leading the brand new Digimakers Roadshow programme for this academic year (2016-17).
Digimakers and Digimakers Roadshow are the two flagship outreach operations undertaken in the Faculty of Engineering. We also participate in local and national events, the Access To Bristol scheme, Headstart, an annual work experience week for year 11s and many other activities.
As part of this, I have also created several workshops for children aged 9+. These include ones for Micro:bit, Minecraft and other popular platforms. For more details about the programme(s) and our free, open resources, please use the links above or contact me.
I have previously worked for various organisations and startup companies creating educational technology and resources for teaching computing and electronics. My work has covered education of all age groups between primary school and University. I also run some of my own EduTech projects and get involved in many EduTech events.
This is a large project and I've already briefly described it on this page (above) so it's probably best to just let the website and my CV describe it.
Website Github YouTube Twitter

My father, David Nutting, has created a website that offers a new, signficantly improved way for primary and secondary schools to organise parents evenings. He teaches in schools in London and has been working in schools for over 12 years. This experience combined with his knowledge of software development has resulted in an excellent, simple, teacher-friendly system.
For more details and to discuss using the website for your school, please see the website.